2020-03-30 16:36:00
Total Film Magazine has unveiled their new Black Widow subscriber's cover, and it features Scarlett Johansson as Natasha Romanoff striding with a purpose, batons in hand.
This appears to be a zoomed-in version of the first theatrical poster, but it does provide a much better look at the Academy Award-nominated actress as Marvel's Fallen Avenger.
BLACK WIDOW: Scarlett Johansson Confronts Her Past In The Action-Packed Final Trailer

Black Widow is still set for a theatrical release despite a recent rumor that Disney might be considering sending it straight to streaming, but we're still not sure when that's likely to be.

We'll keep you updated, but for now be sure to check out the cover below along with some recent shots from Johansson's EW photoshoot and a cool new promo pic featuring Taskmaster.
Subscribers! The new issue of Total Film – headlined by the delayed but undefeated #BlackWidow – is on its way! Here's your exclusive subscriber-only cover pic.twitter.com/VdAYJsRife

— Total Film (@totalfilm) March 30, 2020
Simply click on the next button below!
The Family
A new shot of Natasha alongside her "sister" (Florence Pugh) and "mother" (Rachel Weisz).
Although they're not blood-related, there does seem to be a strong family dynamic at the heart of the movie.
"I thought it would be a straightforward action movie,"
says David Harbour, who plays the "father" in this equation.
"And then it wound up being a real character study of a dysfunctional family."
Scarlett Johansson #1
Although fans have been asking for a standalone
Black Widow
 adventure for many years, Johansson reveals that she actually wasn't all that interested - until she met director Cate Shortland, who was intrigued by the character's resilience.
"We just bonded over stories about trust and about intimacy and about women surviving,"
Shortland says of her initial chat with the actress. "
You didn't have to be a superhero to identify with a woman who has had a really tough childhood and has survived and has a huge heart and helps other people."
Scarlett Johansson #2
Black Widow
does take place before the events of
Avengers: Endgame
(obvioulsy), but it sounds like it's going to have more to offer than the usual blockbuster prequel.
"A prequel that simply filled in the blanks of things you already know is not very exciting,"
says Feige.
"How does she get her Widow stingers for the first time? How did she learn to do a flip? That doesn't matter."
Cover
Johansson poses for EW's cover, not in character as Black Widow, but certainly taking some inspiration from the Lethal Avenger's moniker.
Taskmaster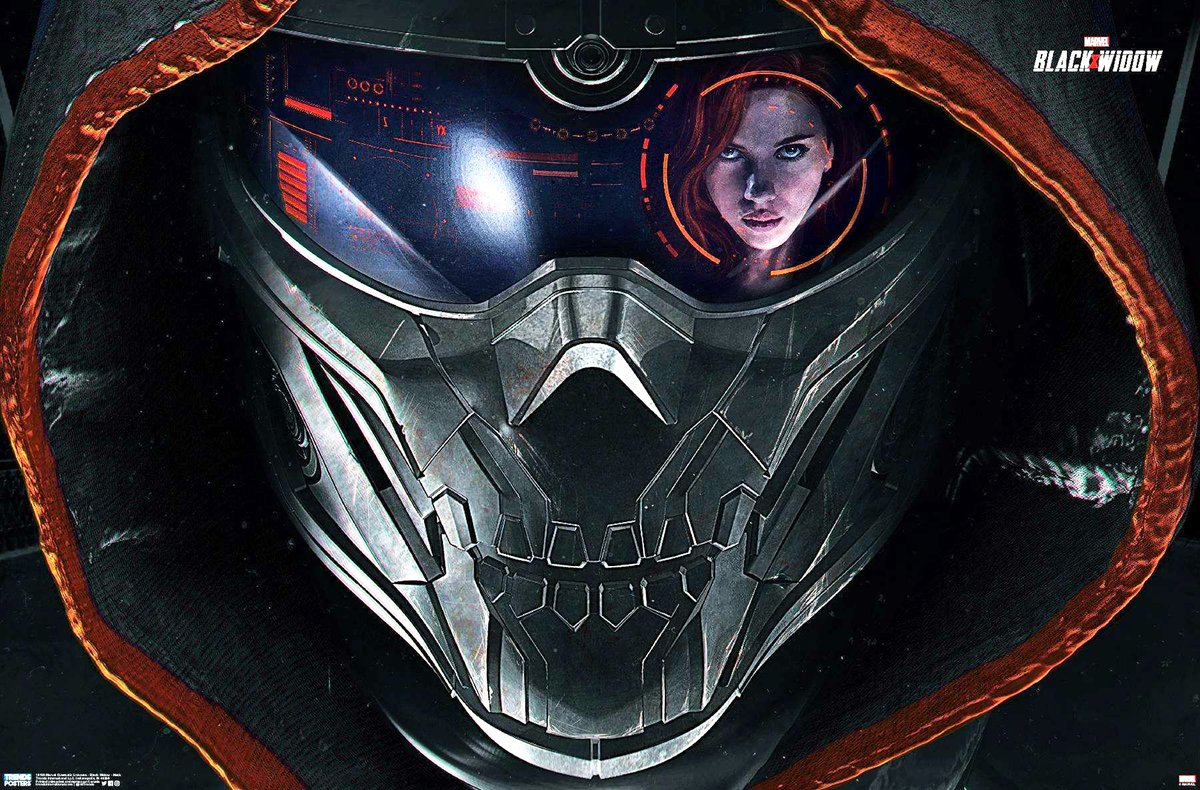 Finally, we have an awesome new promo shot of the mysterious Taskmaster keeping his target in his sights.
We still don't know who'll be playing the villain (though one cast member may have spilled the beans), but we do know that he's going to be a very formidable foe.  
"In Marvel Studios' action-packed spy thriller "Black Widow," Natasha Romanoff, aka Black Widow, confronts the darker parts of her ledger when a dangerous conspiracy with ties to her past arises. Pursued by a force that will stop at nothing to bring her down, Natasha must deal with her history as a spy and the broken relationships left in her wake long before she became an Avenger. Scarlett Johansson reprises her role as Natasha/Black Widow, Florence Pugh stars as Yelena, David Harbour portrays Alexei/The Red Guardian, and Rachel Weisz is Melina. Directed by Cate Shortland and produced by Kevin Feige, "Black Widow"—the first film in Phase Four of the Marvel Cinematic Universe—hits U.S. theaters on May 1, 2020." --Marvel Studios."
Black Widow
also stars William Hurt, Ray Winstone and Olivier Richters. Let us know if you're looking forward to the movie in the comments.
https://www.comicbookmovie.com/black_widow/black-widow-scarlett-johanssons-lethal-avenger-is-ready-for-action-on-total-films-new-cover-a174197" target="_blank">Read More . . .
|
|
|
Tweet